Become Our Partner & Receive Donations From Our Marketplace
Our mission is to financially help Veterans, Animals, Children & Freedom Movements. Qualifying Nonprofits, Organizations & Groups need to provide services to support "Vets - Pets - Kids & Freedom!" Please check out our benefits, criteria and then give us a call or send us an email. We'd love to have you join our community!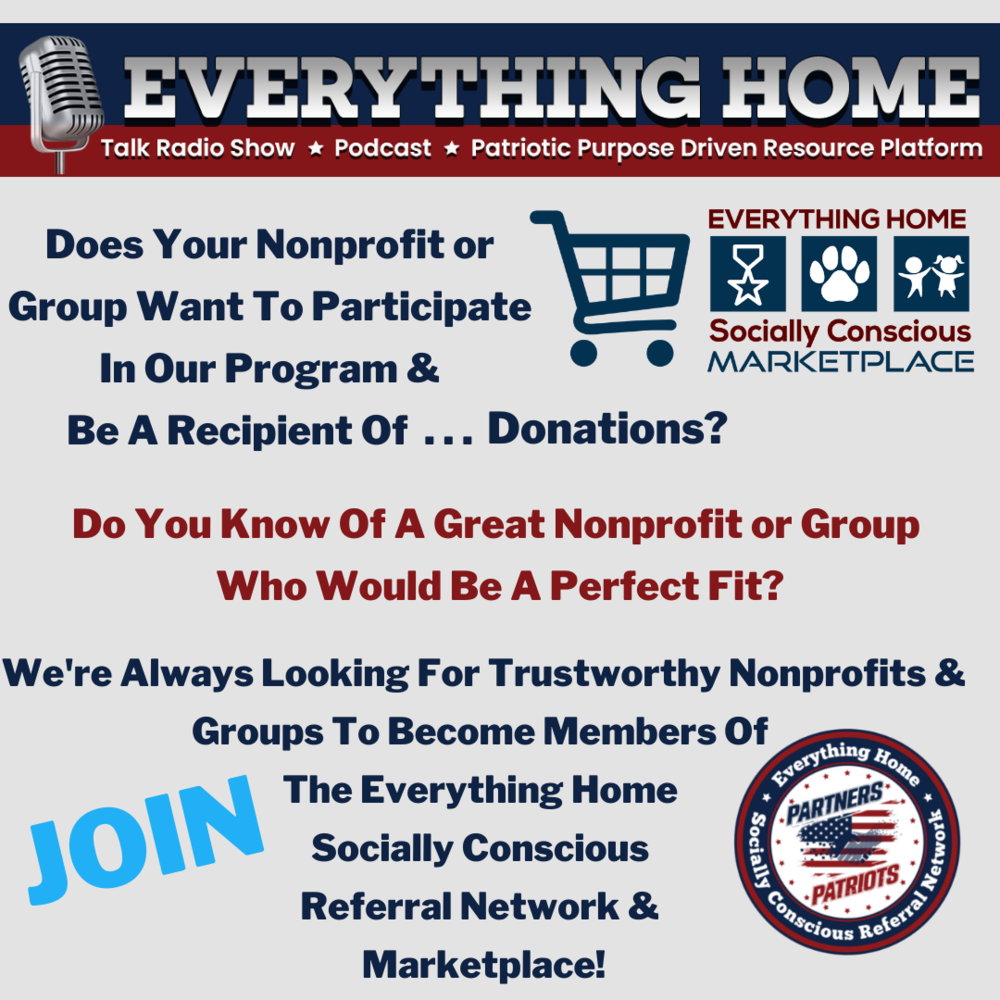 We Believe In Partnerships - Promotion & Relationships!
To make an even greater impact, we've created a Patriotic Purpose Driven Resource Platform, with trustworthy and useful resources so you can "Take Action" to enhance the quality of your life, the lives of others, listen to helpful information, learn from respected experts, grow your business, discover vetted nonprofits, and be confident that the professionals, companies, organizations and individuals (our Members) are reliable, deliver quality content, provide exceptional products and services, and support the values that make America GREAT!

* Grow Your Business
* Enhance The Quality Of Your Life
* Make A Difference - Especially In Your Communities
What You Need To Do:
1) Join Our "Save My Freedom" Movement as a leader & encourage your community to join through regular promotion.
http://SaveMyFreedom.us

https://bit.ly/SaveMyFreedomPressRelease

2) LIKE - COMMENT - SHARE Our Social Media Posts (we'll do the same for you!)

3) Promote Our Marketplace - On Social Media, In Your Newsletters, On Your Website, By Word Of Mouth, At Your Events, Directly to Your Organization/Group, etc.

4) Extra promotion for these companies/products featured on Our Marketplace (MyPillow.com, TheFlagshirt.com, ILoveMyFreedom.com, Dr. Zev Zelenko Z-Stack Supplements, BrighteonStore.com, My Patriot Supply) If they conflict with your network, we will make an exception.
*We believe in their missions, love their products and have personal relationships with the owners so we want to support them as much as possible.

5) Promote Our Talk Radio Show, Podcast, TV Show & Patriotic Purpose Driven Resource Platform (same methods as #3)

6) Connect with & follow us on social media.

7) Rate, Review & Subscribe to the "Everything Home" Talk Radio Show & Podcast.

8) Sign-up for our newsletter to eliminate the censorship of social media.

9) Share our newsletter with your contacts & encourage them to subscribe.

10) LinkedIn: Endorse & Recommend our Host - Michele Swinick.

11) Facebook: Write a recommendation for "Everything Home"

12) Remember to visit the Everything Home Socially Conscious Marketplace when wanting to BUY products & services so 2% to 20% of your Total Purchase is DONATED to financially support "Vets-Pets-Kids & Freedom!"
What You'll Receive:
1) A percentage of the revenue received through the sales of products and services on our Marketplace. Our Partners pay between 2% and 20% of the total purchase. Funds will be divided by the number of participating Nonprofits & Groups and distributed quarterly.

2) Designation as a Partner with a branded certification seal.

3) A listing on our Platform/website in various locations: Save My Freedom, Take Action Tab, Partners & Patriots, etc.

4) LIVE Talk Radio Show Segment on "Michele's Patriotic Soapbox". It's a longer format interview during the 2nd & 3rd hours of the show. Segment is up to 25 minutes, will be packaged as a stand-alone podcast episode with a custom promo graphic and distributed on 25 podcast players & Rumble.

*You'll receive the audio, video, graphic and links. We will also promote the episode on social media.

5) Reoccurring monthly appearances on our Talk Radio Show & Podcast - during the 1st hour of the show: "Purpose-Driven Partners" Segments are 7 minutes.

6) Introduction to our Partners & Patriots through an email and social media campaign and Personal Intro to any of your choosing.

7) Inclusion in our Partners & Patriots monthly networking & resources newsletter.

8) Participation in our exclusive Partners & Patriots networking events.

9) Your current campaigns/promotions/events listed on our Platform & promoted - as you provide them.

10) Opportunity for frequent collaboration and unlimited joint promotion campaigns.

11) Open lines of communication for marketing, promotion and networking support.

12) Ongoing referrals through our multiple networking efforts and campaigns.

13) Personal introduction to our strategic partners hosting podcasts, talk radio & tv shows.

14) We'll continually promote you through social media, print and online publications, our talk radio show & podcast, guest podcast/radio appearances, newsletters, all members, referrals & more.

15) PRESS RELEASE: Your name & organization included in our monthly press release to announce your membership in our Platform.

** We will provide you with a Partner Package which includes all information, links, graphics, assets, etc. **

Here's To An Amazing Partnership & Making A Difference Together!
Meet Our Partners
We're always looking for more Nonprofits, Organizations & Groups who value the concept of collaboration, partnerships, relationships & promotion. When we work together and support one another...there's more exposure, awareness and donations for all.
Please share our program with anyone who may be a fit.
Contact Us
Please email or call Michele directly for a faster response.