Welcome To
Everything Home's Virtual Volunteer Program!
We're excited for you to become our Partner in the Everything Home Community and help us promote nonprofit organizations & groups supporting
"Vets-Pets-Kids & Freedom!"
Be prepared . . . GREAT things are about to happen!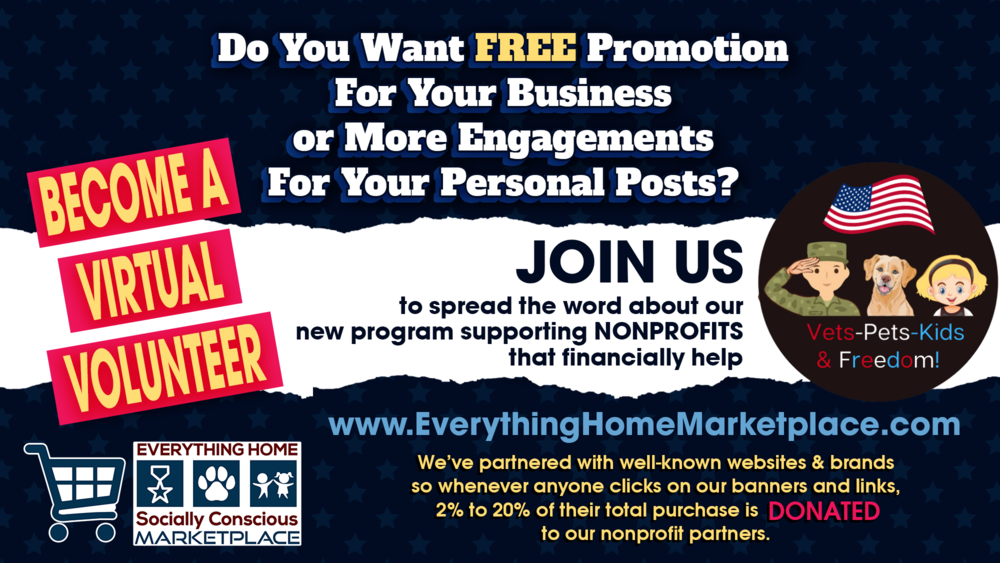 WHAT YOU NEED TO DO:

1) LIKE - COMMENT - SHARE
Our Social Media Posts
(we'll do the same for you!)

2) Promote Our Marketplace - On Social Media, In Your Newsletters, On Your Website, By Word Of Mouth, etc.

WHERE'S WHAT YOU'LL RECEIVE FOR HELPING US TO GET THE WORD OUT:
---
✅ Membership in the Everything Home Socially Conscious Referral Network

✅ Designation as a Partner or Patriot with a branded certification seal

✅ A business or personal listing on our Partners & Patriots website page

✅ Announcement of your membership on all social media platforms and our Talk Radio Show & Podcast - Everything Home

People BUY & Companies DONATE!
CLICK 🌟 BUY 🌟 MAKE A DIFFERENCE
We've partnered with 57 well-known websites & brands so whenever anyone clicks on our banners & links, 2% to 20% of their TOTAL purchase is DONATED to our nonprofit partners & groups helping & supporting "Vets-Pets-Kids & Freedom!"

Community-Powered Philanthropy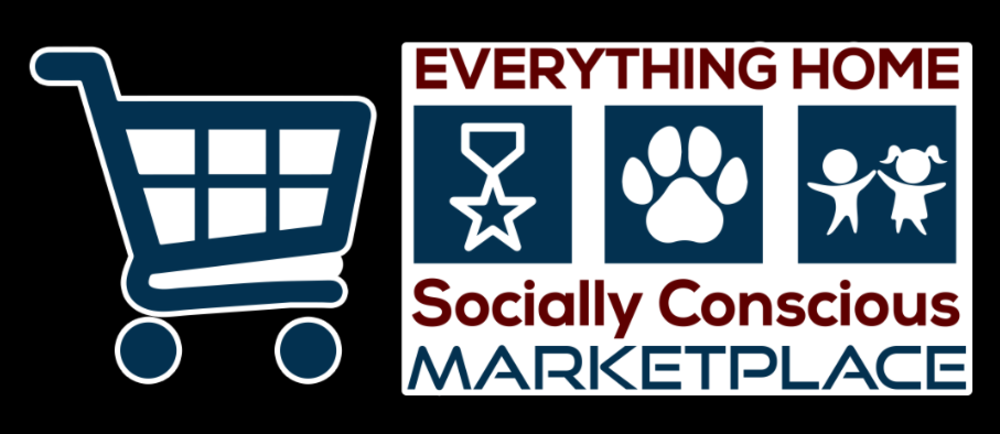 Become Our Partner & Receive Donations
Our mission is to financially help Veterans, Animals, Children & Freedom Movements. Qualifying Nonprofits, Organization & Groups need to provide services to support "Vets - Pets - Kids & Freedom!" Check out our benefits, criteria and then give us a call or send us an email. We'd love to have you join our community!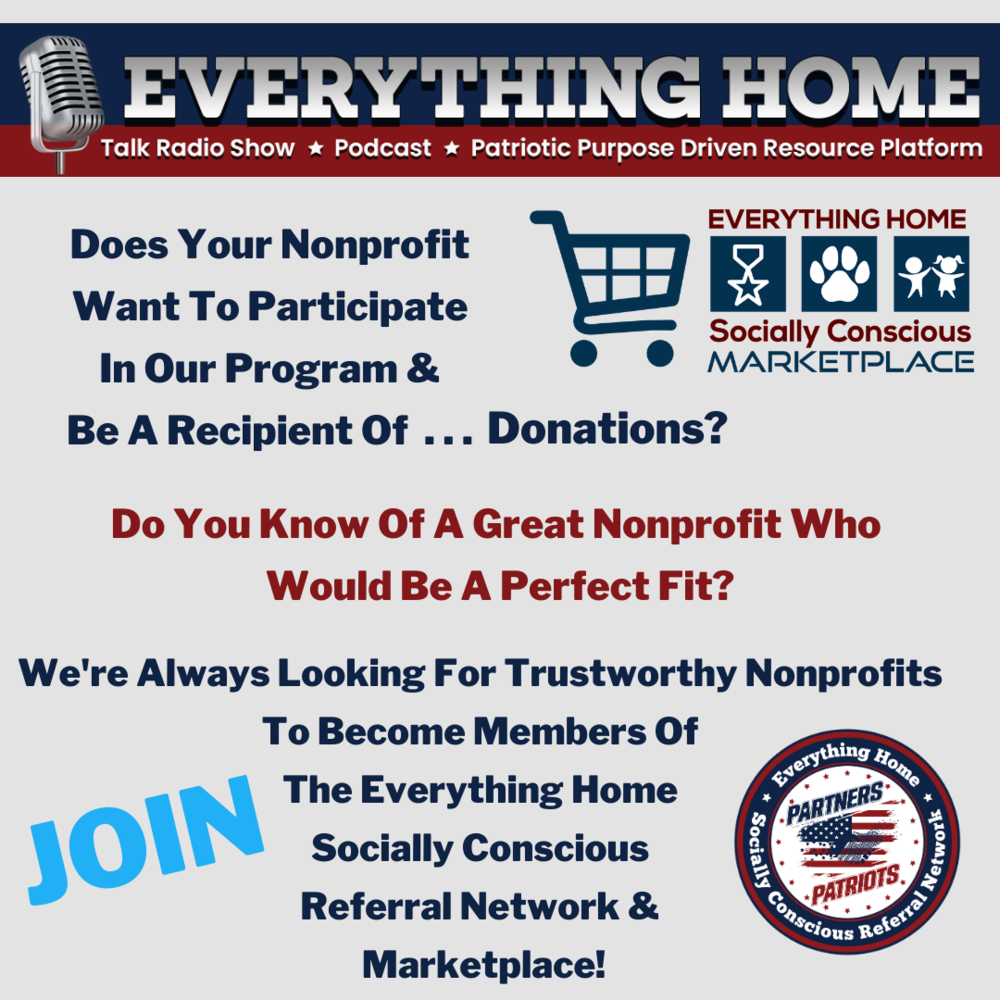 Everything Home
Talk Radio Show 🌟 Podcast
Patriotic Purpose Driven
Resource Platform
ONE Location For All The Information | The Ultimate Resource Platform Providing EVERYTHING You Need To Grow Your Business, Enhance The Quality Of Your Life & Make A Difference - Especially In Your Communities!

The Transformational Show & Platform about LIFE * LAUGHTER * PURSUIT OF HAPPINESS delivered by Good People 😇 doing Good Business 💸 & Good Things 👍

We are your trustworthy resource for sharing personal stories and quality content, conveyed with a hint of humor and a supersized side of sincerity. Why? To enhance the quality of your life, give you more professional, personal and financial freedom, and Promote Patriotism.
Talk Radio Show & Podcast
Listen & Subscribe on your favorite podcast player!
How do we define "Home"? It's much more than a place to live. It's the foundation for everything in your life – from its structure and contents, to what goes on inside and outside of it, and most importantly, what goes on inside of you. To ensure your foundation is as solid as can be, each week Michele Swinick, "The Queen of Quality Content", interviews various experts, entrepreneurs, professionals and purpose-driven people to share their stories, passions, and provide real-life, tangible takeaways.

Everything You Need To...Grow Your Business, Enhance The Quality Of Your Life & Make A Difference - Especially In Your Community
TAKE ACTION NOW!
---
Specific Take Action Items; "Must Follow & Join" People, Groups, Organizations, Companies; Live & Virtual Events; Patriotic Media; "Must Listen To" Podcasts, Talk Radio Show, TV Shows, Livestreams; Become a Precinct Committeeman; "Must Watch Videos"; Legal Defense Funds; Petitions To Sign, Politician Contact Info - From Local to Fed; Election Fraud Facts, Covid19 Treatments, Therapeutics, Medications, Protocols; Become A Partner; Our Platinum Partners; Arizona Special Section & Much More! www.TakeActionItems.com